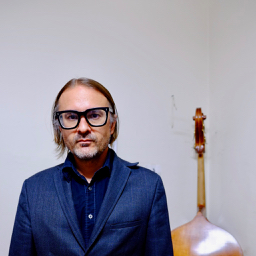 The diversity of Jason Roebke's musical associations makes him one of the most sought after bassists in Chicago and beyond. Along with longtime collaborator and bass clarinetist Jason Stein, Roebke performed 60+ shows in the US and Europe opening for comedian Amy Schumer. He composes music for two ensembles, Jason Roebke Combination and the Jason Roebke Octet. Solo performance and a duo with dancer Ayako Kato are also at the forefront of his creative activities. His playing is intensely physical, audacious, and sparse. The Chicago Reader described his work as "a carefully orchestrated rummage through a hardware store." He is a member of the Jeb Bishop Trio, Jason Adasiewicz Rolldown, Jason Stein's Locksmith Isidore, Mike Reed's People, Places, and Things, and Jorrit Dijkstra's Flatlands Collective & Pillow Circles. Roebke studied privately with saxophonist and composer Roscoe Mitchell as well as legendary double bass pedagogue Stuart Sankey.  In 2009, he was awarded the Fellowship in Music Composition from the Illinois Arts Council. Roebke tours widely in the US and Europe. He was the subject of an extensive interview and career overview in
Point of Departure
.
---
"this crew delivered the absolute essence of composition locking horns with improvisation, resulting in a runaway demonstration of extreme, unpredictable excitement…This combo's heavy on the horns, negotiating themes and solos with frequently blurred demarcations, organically threading into a monstrous entity." Martin Longly,
theartsdesk.com
---
"Composer and consummate musician Roebke exemplifies all that is fascinating and unique about Chicago jazz. On this uniformly superb disc he also demonstrates his own singular yet understated style, subtly yet brilliantly directing the sublime music from behind the 'curtains.'" – 
ChicagoJazz.com
---
 "In Roebke, another strong composer has emerged from a fertile scene." –
Jazz Times
---
"With his precise intonation, woody tone, keen sense of time, and top-notch improvisational skills, bassist Jason Roebke is just the kind of player every bandleader wants" –
Chicago Reader
---
"High/Red/Center stands out as one of the typically fantastic examples of the new Chicago music. If you were only to have a handful of new Chicago sounds, this should be one of them. What is so interesting about this band and the movement in general is that the music somehow captures the enthusiasm and joy of the new jazz in its early stages, yet it gives us a very contemporary spin on that moment with an accomplished conceptual and rousingly free attitude." –
Gapplegate
Music Review
---
Top Ten Jazz Record of 2014 Lists:
High/Red/Center – #1 Jerome Wilson, Cadence High/Red/Center – #5 Lyn Horton, The Paradigm of Beauty
2014 NPR Music Jazz Critics Poll – Top 50 in the voting for Jazz Album of the Year:
#28. Jason Roebke Octet, High/Red/Center (Delmark)
http://www.chicagojazz.com/magazine/cd-review-high/red/center,–jason-roebke-octet-1234.html
http://www.chicagomusic.org/jazzreview-jason-roebke-octet-highredcenter-may-2014/#.VeXzvvZViko
---
The Jason Roebke Octet's engagement at the Doek Festival 2016 was supported by Mid Atlantic Arts Foundation through USArtists International in partnership with the National Endowment for the Arts and the Andrew W. Mellon Foundation. 
www.midatlanticarts.org